Discover more from Turtle Paradise
Practical stuff relating to gardening and land stewardship with a dose of permaculture, politics, climate, and opinion.
The August days are long, but not long enough to get everything done on the to-do list. In spare moments I work on writing essays with deep and profound content, but they never seem to get finished. August isn't really conducive to the deep and profound. It's more a time of eating fresh food, pulling weeds, porch sitting, and wishing fervently for plant growth to slow down just a little so I can catch up.
It's been a great year for butterflies, and cup plant (pictured above) has proven to be a major attractor. Eastern tiger swallowtails flock to it, joining bees, flies, and beetles in the quest for nectar or a sip of water.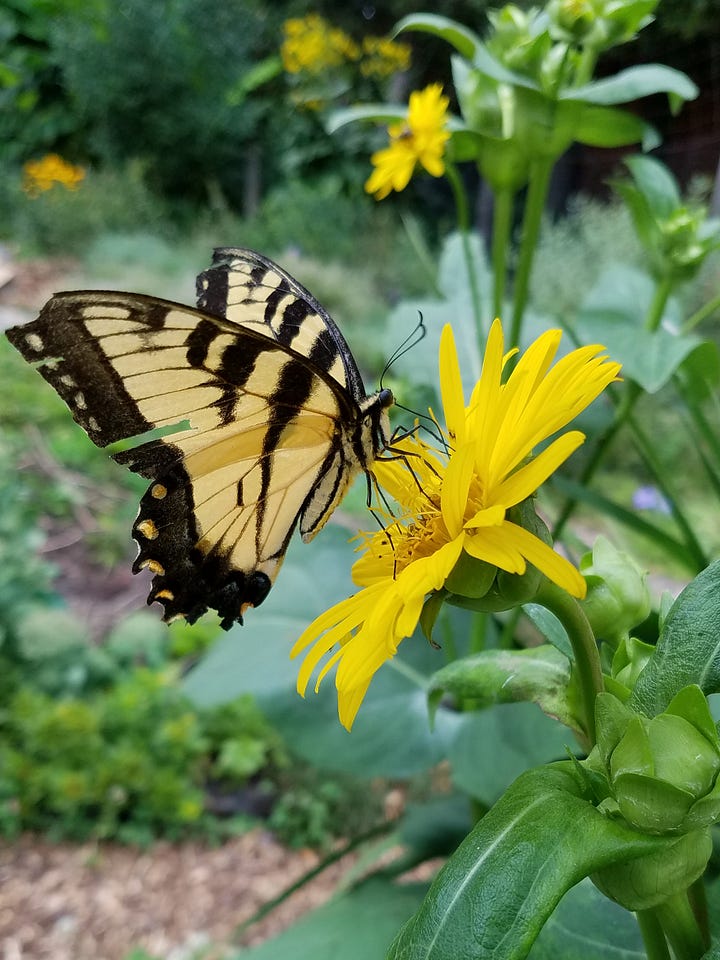 It's not surprising to see zebra swallowtails since their caterpillars live on pawpaw trees. Every year I spot dozens more saplings as mother trees send up new suckers. As a clonal tree, pawpaws spread mainly vegetatively, but also — luckily for us — spread their seeds via delicious fruit.
Other butterflies observed include the red spotted purple (a strangely named blue butterfly with orange spots), and the northern pearly-eye.
We're stuffing ourselves with as much seasonal bounty as we can, cooking dishes that are heavy on veggies and eggs. Frittatas win the grand prize for using up the glut of fresh ingredients, with each one containing a dozen eggs plus zucchini, summer squash, onion, potato, garlic, and just about any other veg the cook wants to throw in. We've enjoyed three this week, but the egg content of the fridge is holding steady. One very large egg turned out to be a triple-yolker, the first I've ever seen.
My son promises that baba ghanoush and pesto pasta are coming this week. Meanwhile, highly addictive oven-baked jalapeno poppers are a great way to enjoy the surplus of this moderately spicy pepper.
Lately temperatures have been too high for turtles to be roaming around. During the dog days they lay low, keeping cool in shady and secluded spots. A few weeks ago, after a storm left several inches of water in the pond, I spotted this feisty specimen taking a cooling dip. She retreated to a small island while I fetched the camera, but her defiant expression let me know she expected me to leave quickly so could resume her bath. I complied of course.